A Classic Rock/Jimmy Hendrix Tribute Band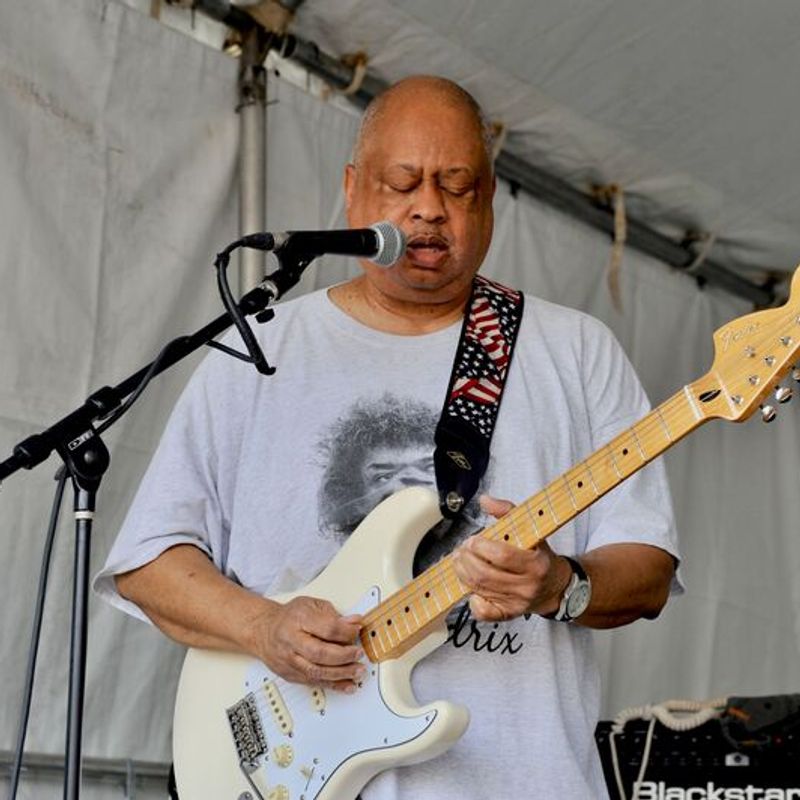 Ronnie Mariano
B​lues/Rock Guitarist Ronnie Mariano has had a forty year love affair with his instrument since he got his first guitar from a neighbor who introduced him to it's sonic possibilities at age thirteen.

As a music major in high school he continued his pursuit as a guitarist in local R&B bands Fragile Glass and The Brown-Smith Vibration. Seeking to expand his sound Ronnie began
listening to Seminal Guitar Giants Jimi Hendrix, Carlos Santana and B.B. King which helped to cultivate his growing affection for Rock and Blues while maintaining a solid foundation in
R&B and Jazz.

Throughout the late 80's into the early 2000's the contributed his unique guitar stylings to local act State of Affairz and eventually began performing Gospel as featured Guitarist with Contemporary Gospel Artist Reggie McClurkin & The Praise Agenda and the Traditiona Gospel Quartet The Gospel Creators. Presently Ronnie is developing original music for his first CD and has started his own band "Purple Flo" a Jimi Hendrix Tribute
Act hoping to keep Hendrix's music and contributions to the music industry alive through live performances.
Charles "Chan" Curtis
Bassist Charles "Chan" Curtis was drawn to the sound of the Bass Guitar as a child listening to the music of the early 60's with his parents while growing up in Baltimore, MD.

​Initially influenced by preeminent Motown Bassist James Jamerson, he began playing the instrument by the late 60's and continued his development during military service
overseas.
​
After returning to the U.S. Charles continued his musical journey playing Bass with local groups Hot Pursuit and The Vandals throughout the 70's and 80's while also collaborating on various original projects.

Upon joining R&B act State of Affairz in 1988 he accelerated his musical growth eventually learning Bass Synthesizer Keyboards, expanding the group's sonic textures and versatility elevating the band's profile and popularity which led to opening
for acts such as Roberta Flack, Regina Belle, Phil Perry and Gerald Veasley.

Charles' influences now include Marcus Miller, Anthony Wellington and Stanley Clark and he is a regular attendee of Fusion/Jazz Bassist Gerald Veasley's "Bass Boot Camp".

Recently he has contributed his
"Bottom End Artistry" to groups The Persians, The Bleu Lights, Hidden Exit and The Vizion Band and is continuing to grow through live performance and study.

Charles' ultimate goal is to perfect the
art of hearing, feeling and playing the
Bass Guitar and allow God and the music to carry him into his future.​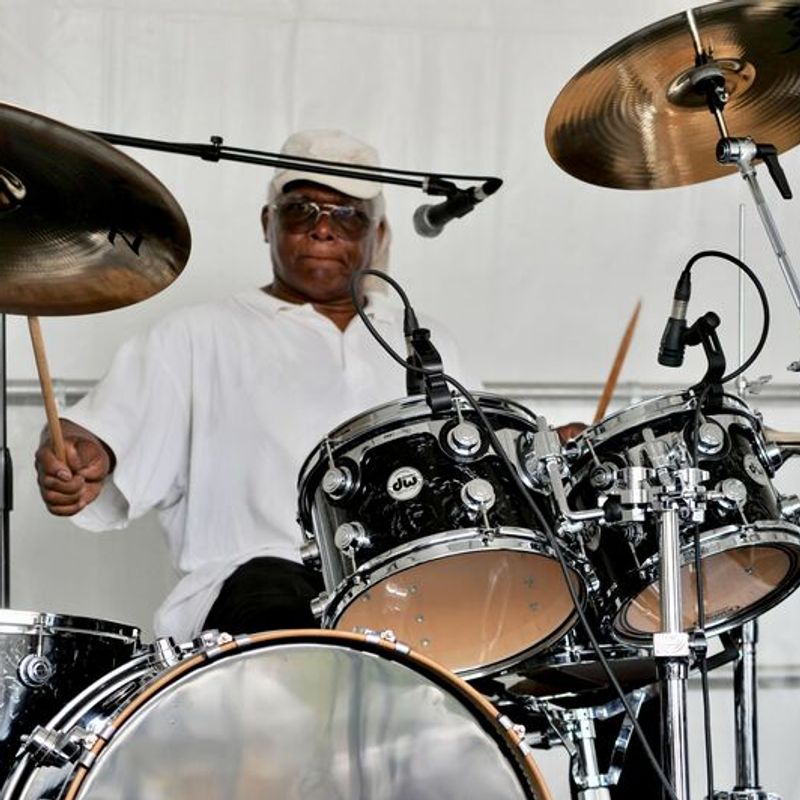 Mike Delvison Sr.
​As a Drummer/Keyboardist/Vocalist
and Sound Engineer, Mike Delvison Sr.
is a musician and technical support
Veteran of the Baltimore music scene
since the early 70's.

At age 18 he began his musical journey,
playing the drums and gradually added
Keyboards and Bass Guitar to his
"musical arsenal" while formally
studying music at Morgan State College,
The Peabody Conservatory and Baltimore City Community College. He also gained invaluable on-the-job performing experience from participating in jam sessions and performing with local R&B acts too numerous to mention.

His musical influences include
Drummers Tony Williams, Ndugu Chandler and Jack DeJohnette as well as Keyboardists Herbie Hancock,
Joe Zawinul and Dexter Wansel who
helped shape his approach and
technique on both percussive
instruments.

Mike believes that playing music is
therapeutic, stabilizing and
soul-satisfying and welcomes
every opportunity to share it with
like-minded musicians and music lovers either through live performances or Engineering recordings in his home studio.

He brings a wealth of Musical and
Technical Knowledge to PurpleFlo,
making him the "Consummate Team Player" to Support the Band's Vision of
"Keeping Jimi Hendrix's Musical
Legacy Alive" In The 21st Century".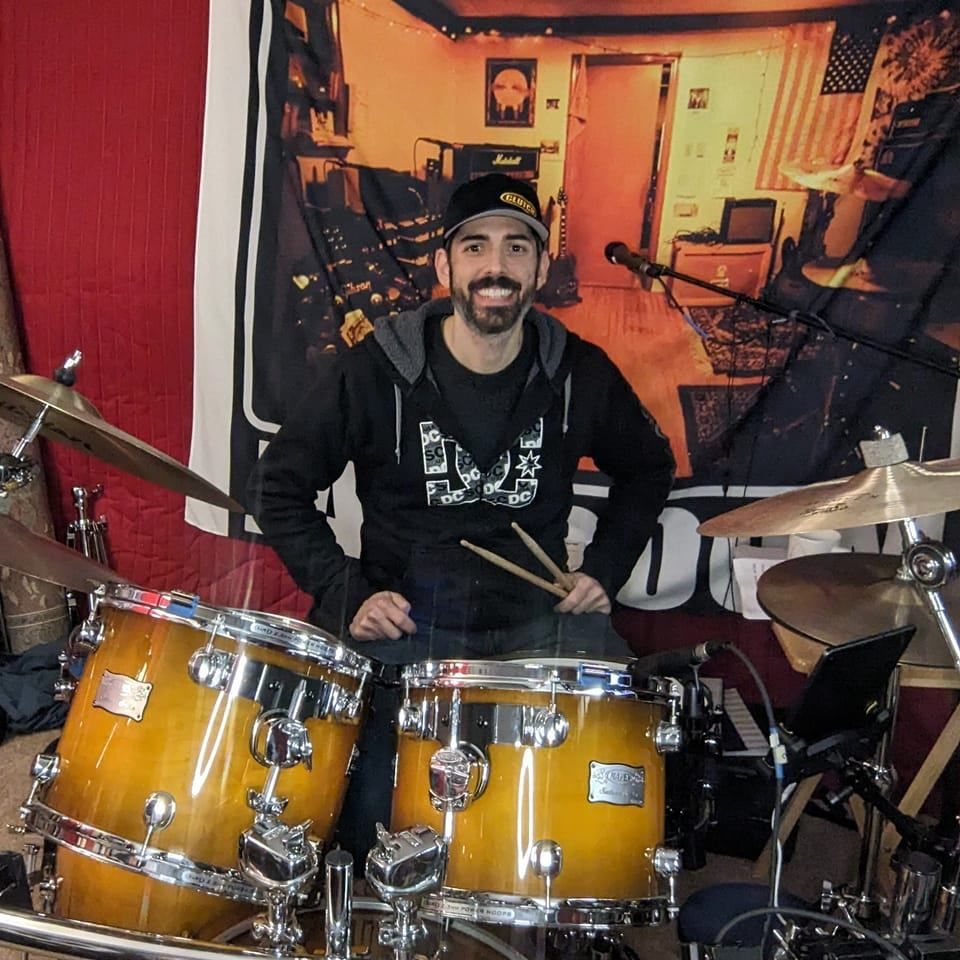 John Cordiano
John Cordiano fell for the drums in his New Jersey high school drumline, where he performed bass drum, snare drum, then tenor drums as the drumline captain. As a junior in high school, punk rock band Clincher pulled him in as their drummer, and they toured large portions of New Jersey, Connecticut, and New York. His experiences with Clincher lit a fire that pushed him to focus on breaking into the music industry.
John received his certification in Recording, Engineering, and Production from NYC's Institute of Audio Research in 1999. From there, he worked as an assistant engineer at Unique Recording Studio in NYC, while continuing to perform as a drummer for various bands with a wide range of musical genres.
After putting himself through college at Radford University in Virginia, he joined the band TriScale, a funky blues rock band strongly influenced by Jimi Hendrix and he identified that groove that resonates in his soul. John performed with TriScale up to 60 times per year in the late aughts (2006 - 2011), at one point touring between New York City and North Carolina and sharing the stage with bands like Sol Roots, Barefoot West, and The People's Blues of Richmond.
After a career move brought him to Maryland, he's now performing with the Jimi Hendrix tribute band, Purple Flo, as well as Mark Whiskey & The Sours, a popular rock-a-billy band.
When he's not performing on stage, he can be found studying with professional drummer Joe Bergamini, and providing beginner drum lessons to budding musicians in his community.